Opuntia ficus Indica – Description
This cactus plant of the Cactaceae family [1], originated from Mexico, was introduced into North Africa in the 16th century [2]. Nowadays, Opuntia Ficus Indica grows everywhere in Morocco.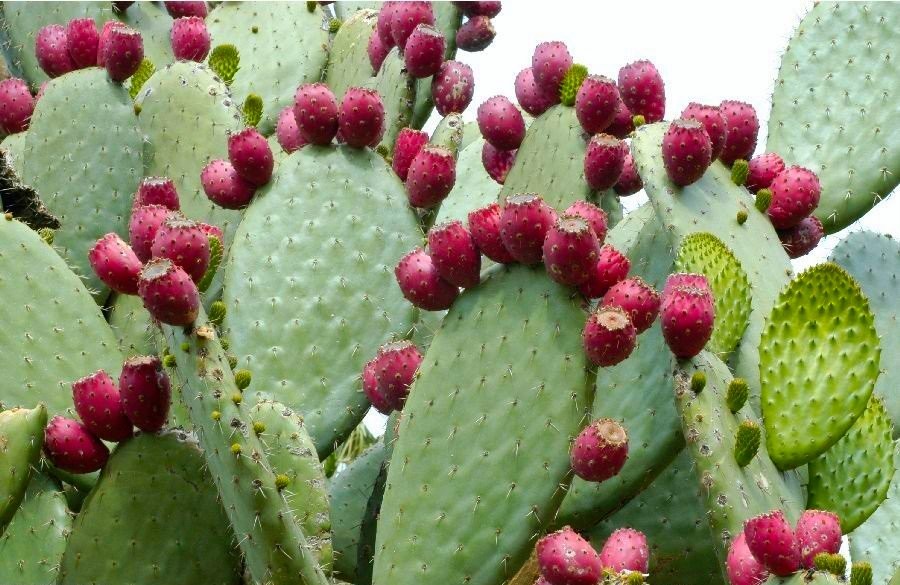 Seeds contained in the pulp, accounts for 2 to 10% [3,4]. And it was reported that oil content varies according to the origin of the seed. The Italian cultivar was about 9.14% [5] when Moroccan one contain between 5 to 6%. The Tunisian cultivar has about 11% [8], South African one 5-6% and Chinese 6% [10].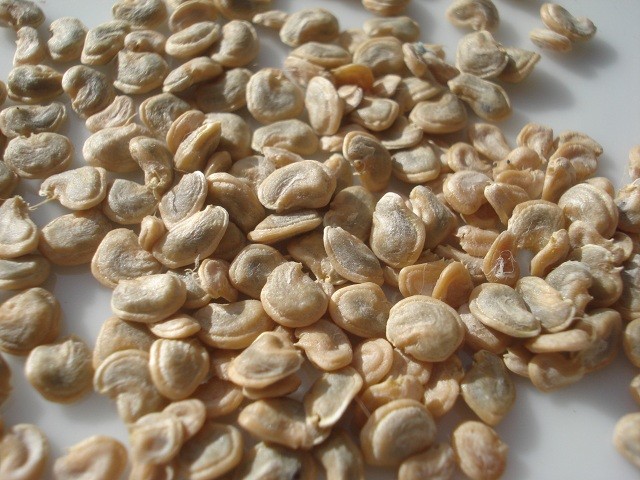 So, we can conclude that the oil content in the prickly seed will be between 5 to 10% according to the cultivar used for the extraction. And finally, we can say that to get 1 kg of oil, between 300 and 500kg of fresh fruits will be needed.
The oil processed from the seeds is characterized by a high degree of unsaturation wherein linoleic acid is the major fatty acid (56.1–77%). Oleic (C18:1) and linoleic (C18:2) acids can count for more than 80% [8] of the total fatty acids.
The sterol fraction is usually about 1% of TL withβ-sitosterol as sterol marker, representing 72% of the total sterol content in seed oil.
Identification data
| | |
| --- | --- |
| Commercial name | Prickly pear seed oil |
| CAS # |  90082-21-6 |
| Botanical name | Opuntia ficus-Indica |
| Plant part | Seed |
| Origin | Morocco |
| Manufacturing place | Morocco |
Specification of the Prickly pear seed oil
| | | |
| --- | --- | --- |
| Parameters | Limits | Test methods |
| Acid Value | < 4% | P.E. 2.5.1 |
| Peroxide Value | < 10 mEq/Kg | P.E. 2.5.5 |
| Saponification value | 192-195 | AOCS Cd 1-85 |
| Insoluble Impurities | < 0.001% | AOCS Ca 3a-46 |
| Linoleic Acid | 55-65% | AOCS Ce 1e-91 |
| Oleic Acid | 15-30% | AOCS Ce 1e-91 |
| Palmitic Acid | 10-15% | AOCS Ce 1e-91 |
| Stearic Acid | 2-5% | AOCS Ce 1e-91 |
Sterols and vitamins E composition
Parameters
Limits
Test methods
Total sterols (mg/100g)
 9.33
PE 2.4.23
Campestrol
1.0 – 2.0 %
Beta-sitosterol
60-70%
Total Tocopherols (mg/100g)
100-110
AOCS  Ce 8-89
Alpha-Tocopherol 
0-1%
Beta-Tocopherol 
0-0.5%
Gamma-Tocopherol 
3-5%
Properties
Applications

Rich in Vitamin E
Potent Anti-Oxidant
Good Source of Alpha (α-), Beta (β-) and Sigma (δ-) Tocopherols
Strong Anti-Inflammatory

Moisturizers
Anti-Aging Products
Hair Care
Nail Care
Lip Care
TECHNICAL DOCUMENTS
Product description
Product specification
MSDS
References

(1) Reyes Aguero, J. A., Aguirre-Riveran, J. R., Hernandez, H. M., Systematic Notes and a detailed description of Opuntia ficus-indica (L.) MILL. (Cactacteae), Agrociencia, 39 (2005) 395-408.
(2) Griffiths, P., The origins of an important cactus crops, Opuntia ficus-indica (Cactaceae): new molecular evidence. Am. J. Bot., 91 (2004) 1915-1921.
(3) Arrizon, J., Calderon, C., Sandoval, G., Effect of different fermentation conditions on the kinetic parameters and production of volatile compounds during the elaboration of a prickly pear distilled beverage. Journal of Industrial Microbiology and Biotechnology, 33 (11) (2006) 921-928.
(4) Piga, A., Cactus Pear: a fruit of nutraceutical and functional importance. J. Prof. Assoc. Cactus Dev, 6 (2004) 9-22.
(5) Salvo, F., Galati, E. M., Lo Curto, S., Tripodo, M. M., Study on the chemical characterization of lipid composition of Opuntia ficus indica L. seed oil. Riv. Ital. Sostanze grasse, 79 (2002) 395-398.
(6) Sawaya, W. N., Khan, P.. Chemical characrterization of prickly pear seed oil, Opuntia ficus-indica. Journal of Food Science, 47 (1982) 2060-2061.
(7) Stintzing, F. C., Schieber, A. & Carle, R., Cactus pear, a promising component of functional food. Obst, Gemu ̈se und Kartoffelverarbeitung , 85 (1) (2000) 40-47.
(8) Ennouri, M., Evelyne, B., Laurence, M., Hamadi, A., Fatty acid composition and rheological behaviour of prickly per seed oils. Food Chem, 93 (2005) 431-437.
(9) Labuschagne, M. and Hugo, A., South Africa, oil content and fatty acid composition of cactus pear seed compared with cotton and grape seed. Journal of Food Biochemistry, 34 (1) (2010) 93-100.
(10) Wei, L., Yu-Jie, F., Yuan-Gang, Z., Mei-Hong, T., Nan, W., Xiao-Lei, L., Su, Z., Supercritical carbon dioxide extraction of seed oil from Opuntia dillenii Haw and its antioxidant activity. Food Chemistry, 114(2009) 334-339.
Notes: The data presented within this document is offered in good faith, and is based on information believed to be reliable. It is offered for informational and evaluation purposes only. Natural Sourcing, LLC provides this product with the understanding that the purchaser will initiate their own testing to determine the suitability of this product for their intended purpose. Natural Sourcing assumes no liability or responsibility for any damage to person or property resulting from the use of this product or the incorporation of this product into any final formulation or product. Statements concerning the use of this product are not to be construed as a recommendation, suggestion or inducement to use the product in any way or within any formulation that is unlawful to create or sell, that violates any applicable regulations or that infringes upon any patent. No liability arising out of such a use is assumed.