Candlenut and kukui oil – Description
The Candlenut, is a flowering tree, in the Euphorbiaceae family, also known as Candleberry, Indian walnut, Kemiri, Varnish tree, Nuez de la India, Buah keras or Kukui nut tree. A medium or large sized, spreading, tropical tree up to 50-80ft tall. Cooked nuts are generally edible, although some strains contain high amounts of cyanide. Usually the nut is pressed for its oil, which is used for a variety of industrial purposes like soap making, varnishes, and fuel.
The oil is sometimes used medicinally similar to castor oil, as well as a laxative. In Southeast Asia, the oil is sometimes applied topically to treat headaches, fevers and swollen joints.
In Ancient Hawaii, kukui nuts were burned to provide light. The nuts were strung in a row on a palm leaf midrib, lit one end, and burned one by one every 15 minutes or so. This led to their use as a measure of time. One could instruct someone to return home before the second nut burned out. Hawaiians also extracted the oil from the nut and burned it in a stone oil lamp called a "kukui hele po" (light, darkness goes) with a wick made of kapa cloth.
Other uses of the oil were found in Hawaii such as a coating of fishing nets with kukui oil in order to preserve them.
In Tonga, even today, ripe nuts, named tuitui are pounded into a paste, tukilamulamu, and used as soap or shampoo. As recently as 1993, candlenuts were chewed into sweet-scented emollient utilized during a traditional funerary ritual in the outlying islands of the Kingdom of Tonga. Their scent was also used for making various sweet smelling oils for the skin.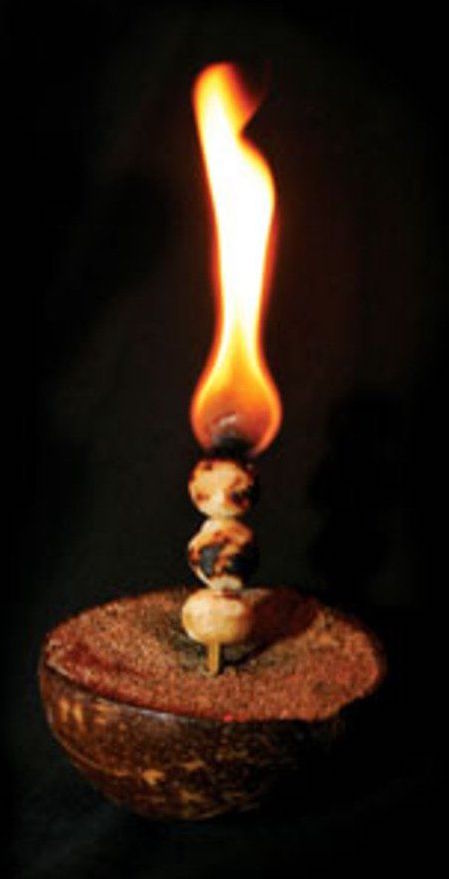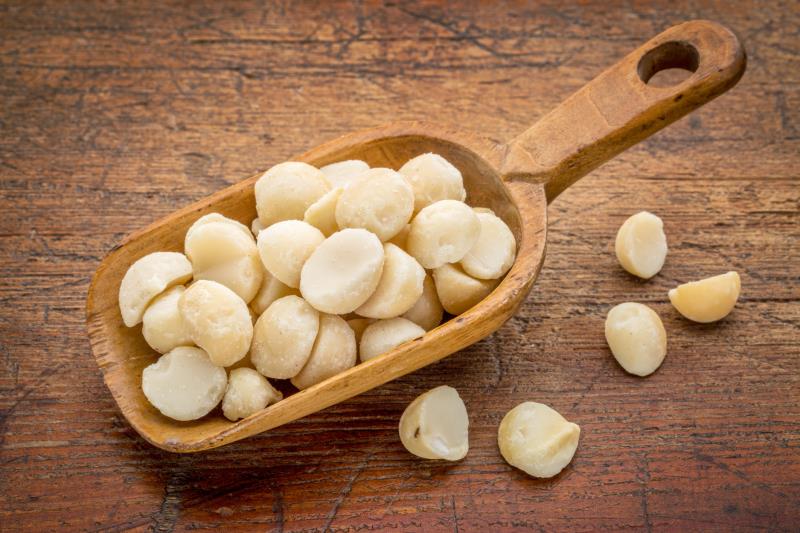 Modern cultivation is mostly for the oil. In plantations, each tree will produce 30-80 kg of nuts, and the nuts yield 15 to 20% of their weight in oil. They grow very well in tropical climates with ample rainfall, but also adapt to dry climates. Candlenut's need little if any care after they are established.
Kukui Nut Oil is a clear, pale, yellow, non-greasy oil, ranking very high amongst polyunsaturated vegetable oils, and can be used for skin and hair care.
It is high in linoleic and linolenic acids. Kukui nut Oil also contains Vitamin A, E and F, and therefore, it is a good oil for anti-aging, revitalising and especially restoring sun damaged skin. The oil has been known to be often used in products that treat psoriasis and eczema, as well as acne.
Identification data
| | |
| --- | --- |
| Commercial name | Kemiri oil |
| CAS # | 8015-80-3 |
| Botanical name | Aleurites moluccana |
| Plant part | Seed  |
| Origin | Indonesia |
| Manufacturing place | Indonesia |
Specification of the Kukui seed oil
| | | |
| --- | --- | --- |
| Parameters | Limits | Test methods |
| Appearance | Clear, light yellowish liquid | Visual |
| Aroma | Light odor | Organoleptic |
| Extraction method | Cold press | N/A |
| Relative density | 0.909 – 0.915 | – |
| Refractive index | 1.466 – 1.470 | – |
| Acid Value | < 8% | P.E. 2.5.1 |
| Peroxide Value | < 10 mEq/Kg | P.E. 2.5.5 |
| Saponification value | 185-195 | AOCS Cd 1-85 |
| Iodine value | 80-88 | AOCS Ca 3a-46 |
| Insoluble Impurities | < 0.1% | AOCS Ca 3a-46 |
| Linolenic Acid | 15-35% | AOCS Ce 1e-91 |
| Linoleic Acid | 25-55% | AOCS Ce 1e-91 |
| Oleic Acid | 15-35% | AOCS Ce 1e-91 |
| Palmitic Acid | 1-10% | AOCS Ce 1e-91 |
| Stearic Acid | 1-8% | AOCS Ce 1e-91 |
Properties
Applications

Rich in Omega 3 and Omega 6
Soothing, a must for dry skin
Efficient against eczema, psoriasis and burns
Moisturizing
Efficient for dry scalp treatment

Moisturizers
Anti-Aging Products
Hair Care
Soap
Lip Care
TECHNICAL DOCUMENTS
Product description
Product specification
MSDS
References

(1) FAO (1993) – "Selected species and strategies to enhance income generation from Amazonian Forest"
Notes: The data presented within this document is offered in good faith, and is based on information believed to be reliable. It is offered for informational and evaluation purposes only. Natural Sourcing, LLC provides this product with the understanding that the purchaser will initiate their own testing to determine the suitability of this product for their intended purpose. Natural Sourcing assumes no liability or responsibility for any damage to person or property resulting from the use of this product or the incorporation of this product into any final formulation or product. Statements concerning the use of this product are not to be construed as a recommendation, suggestion or inducement to use the product in any way or within any formulation that is unlawful to create or sell, that violates any applicable regulations or that infringes upon any patent. No liability arising out of such a use is assumed.